Our brands
DESIGNERS GUILD
Tricia Guild founded Designers Guild in 1970. Now considered one of the most influential and inventive in interior design, the London-based company is internationally recognized for the quality and variety of its designs: fabrics, innovative furnishings and wallpapers, original linens and small furniture, unique collections of paintings, carpets, rugs and accessories. Items created by Designers Guild are now available in over 40 countries.
Bedlinen licence
Whatever your style, you will find what you are looking for thanks to the richness of the designs! The British brand DESIGNERS GUILD was created in 1970 by Tricia Guild. It was inspired by Indian culture, and "hand block printing*" that the first collection was born. For 50 years, the brand has supported you in creating magnificent spaces with style and character. Each design in our bed linen collection is thought out with creativity, character to give you the freedom to bring uniqueness, style and luxurious details to your bedroom, so that it becomes the haven of your dreams. A collection chosen, manufactured and distributed by the Vanderschooten group.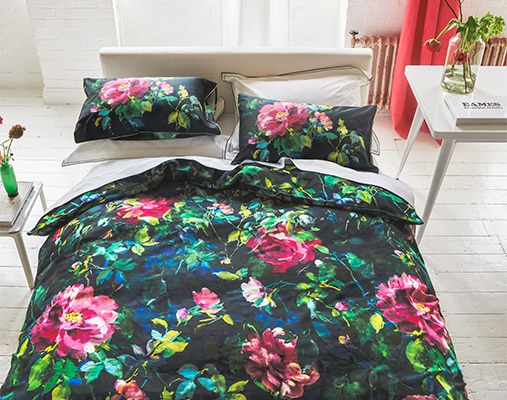 Our Fall-Winter Collection 2023
CONTACT US
A question ? Do you want to distribute our products ?
We will be delighted to discuss your possible needs with you and provide an answer to all your questions. Contact us without delay, we will get back to you very quickly.
Contact us